 The rise of in channel surveys & omnichannel feedback
3 November 2022
in
by Annemarijn Kruyswijk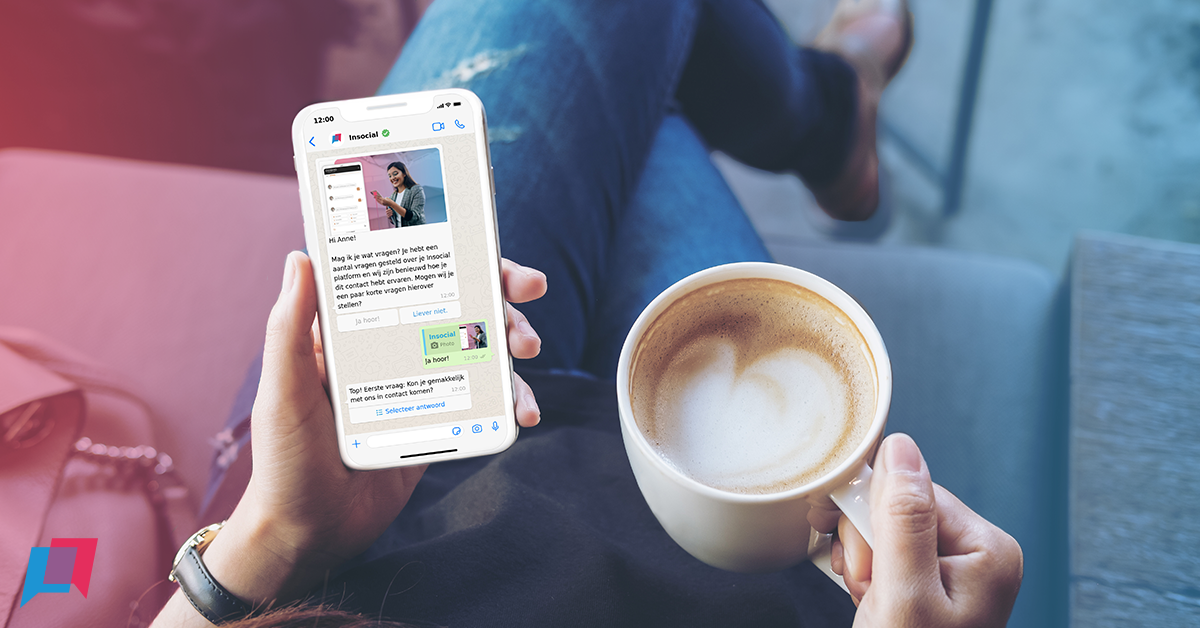 When you ask for feedback, you automatically collect a lot of data. In the interviews with clients you gather sufficient information to discover what you as a company need to focus on. But, what if questioning feedback could be done faster and more direct?
With in channel surveys you ask for feedback directly via the sale- or service channel where your client is at that moment. For example think of a LiveChat or a pup-up after finishing an order or a service conversation. This makes it more accessible for clients to answer your questions. This way you receive valuable feedback and increase the conversion rate on your feedback requests.
An omnichannel experience
Described above is also called an omnichannel experience. With an omnichannel strategy, the focus lies on the client and all possible sale and service channels revolve around the client. Channels complement one another and every channel has its own unique properties. This way, different channels can be applied for different specific purposes.
A client makes less and less distinction between channels, but rather looks at the company or brand as a whole. They buy or orientate to products via a channel that fits them the most at that moment. Whether it is a computer, a shop or a mobile phone. With the rise of new channels, collecting feedback has logically become more and more complex. More complex to you as a company, but also for the client. For this reason it is even more important to approach questioning the feedback process via this omnichannel strategy.
Clients often receive feedback about different contact moments via - maybe various - channels. As time passes, interest and the willingness to respond weakens. So you send a survey a day after the contact moment? Then chances are high that your client has dropped out and doesn't bother to give feedback anymore.
Questioning feedback in WhatsApp
To make sure that a client does not drop out at a feedback question, it is important to do this shortly after the contact. When you also do this in the same channel the client has had contact with, the willingness to give feedback increases.
A channel known by almost everyone is WhatsApp. The popular medium is being used to send a quick message to a colleague, a friend and sometimes even a customer service. The last is a good example of deploying the omnichannel strategy with an in channel survey. Because how easy would it be - from a client perspective - if you receive a few questions about the relevant moment right after the contact moment with the customer service?

What does a channel survey look like?
Perhaps you have received a request to give feedback via WhatsApp or another messaging channel. Often the message contains a link which brings you to a different channel, namely a separate webpage.
A channel survey works differently and a lot easier for the client. Because in this case the client can answer the questions directly in WhatsApp (or another messaging channel) by means of a button or pre-programmed answer possibilities.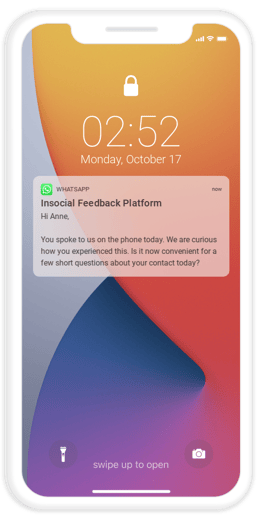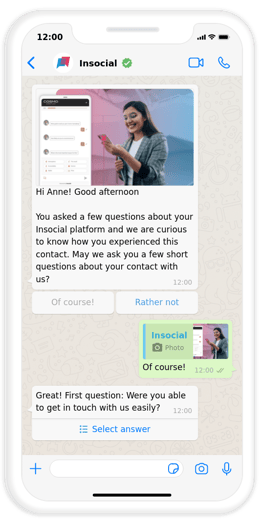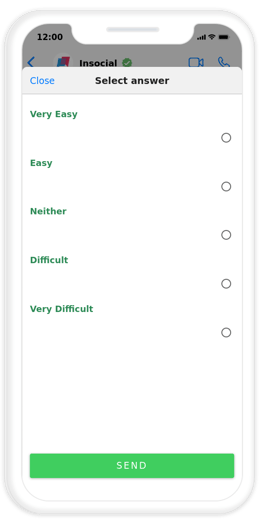 Another example of a channel survey in WhatsApp, is the so-called 'Call Deflection'. After a phone call with a mobile phone number, feedback is being asked via WhatsApp instead of email. In both cases the contact moments remain between easy reach of the client, which makes it easier for him to give feedback. The advantage from a business perspective? A higher conversion rate, so more feedback which you can use to optimize your business processes.

Reach insight with Insocial
Insocial helps to make use of this chance optimally. We do this together with our messaging partners. Thanks to the dashboard with all necessary information about your clients and their feedback, you keep an overview and receive handles to respond to the results.
All data from the various client contact channels will be loaded in the Insocial dashboard. With this, you as a company will have all relevant information on screen at a glance about the customer journey of all channels. In the end it is all about a better experience for the client.
Want to know more about seeking omnichannel feedback & in channel surveys?
Read all about seeking omnichannel feedback with In Channel Surveys in the whitepaper.