 Partner: MessageBird

About MessageBird
An omnichannel communications platform built for global scale. That's how MessageBird positions itself. And that's not very surprising! Because the world's most innovative companies are building communication solutions with MessageBird's applications and APIs. Get started today and talk to your customers through any channel, for any use case, anywhere in the world.

MessageBird enables companies to communicate with their customers through all popular channels. Think email, WhatsApp, Instagram, Facebook Messenger, SMS, Voice and more.

They are building a world where communicating with a business is as easy and natural as talking to a friend.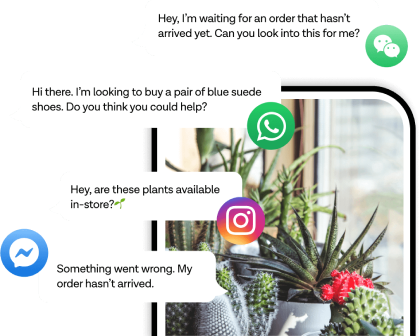 Our partnership
This partnership helps you collect feedback through every possible touchpoint. Combine no/low code technology for a 10x better experience. Messaging channels are increasingly used for sales and service. But how well do your channels score and how do you offer the best possible experience to the recipient? Be accessible on channels like Whatsapp and Facebook messenger and measure customer satisfaction!
Why MessageBird?
With MessageBird, you have all your preferred customer channels in one place. Whether you are trying to improve the quality of existing channels such as SMS, Voice or email - or take on new ways of communicating via WhatsApp, Instagram Direct or Google Business Messages - they manage the complexity for you.
Boost your conversion rate with feedback via Messagebird
There are many companies that can help you optimize your customer journey. When getting started with conversational commerce, Customer Data Platforms and omnichannel customer contact, you quickly come across MessageBird.
Companies communicate with their customers through more and more different (online) channels. This makes it increasingly complex to maintain an overview and to guarantee quality. A major risk is that this will be at the expense of the service and the bond with customers. The challenge is: how do you ensure that your customer stays connected and continues to give feedback?
In this piece you will read all about how Insocial's tooling comes together with MessageBird. By measuring the quality of chat channels through Messagebird, you ensure that the customer always has an excellent experience. Through any channel!