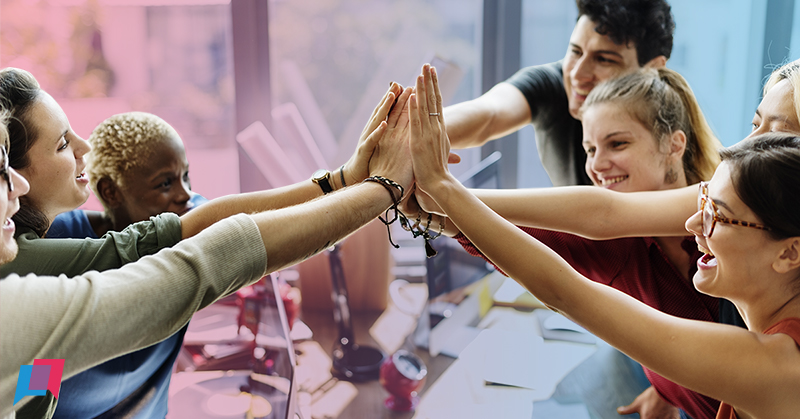 Customer Experience is the differentiator of successful organisations. By fully ensuring Customer Experience )(CX) and adding it to their DNA, companies differentiate themselves from their competitors. Think of examples like Coolblue, Bol.com, Van der Valk, Spare Rib Express, and many more. But what exactly is Customer Experience? What does it entail and what do you need to think of to set up a successful CX strategy?
Definition Customer Experience
Customer Experience, abbreviated CX, is the sum of all interaction moments between an organisation and a (potential) customer in which a customer's experience at each touchpoint should be equal the expectations a customer has.
It is therefore about creating a certain feeling and experience at each way of interaction and differentiating yourself with it. Calling your customer service department should not be the same as any other business. Your shop should give a certain feel or atmosphere that cannot be found anywhere else. And your website should provide such clear information that they will never want to order anywhere else because it is so easy!
The conditions attached to this is that you meet customer expectations (because if you don't, you won't score any points with them anyway). And this could be because you have always done this well as an organisation (and the customer expects this again) or because market standards are changing. After that, you can also look at how you can exceed customer expectations.
The experience should be the same at every point
This means that a consumer can always expect a good experience, regardless of whether the customer calls or sends a message via social media. The customer should be helped in the same way, with the same tone-of-voice and friendliness. In addition, the website should give the same feeling as the physical shop.
The experience must meet expectations within the market
Consider the change in delivery time, for example. Today's customers are not used to long waits. Order today and get it tomorrow. Are you not meeting this? Chances are the customer will have a less good experience with you than with a comparable company.
What do you need to become successful in Customer Experience?
First, becoming successful in Customer Experience is not something you have done 'just like that'. It is a complete transition of your organisation, in terms of structure, the skills of your employees, the processes set up and the corporate culture. This sounds like a lot of 'work'. Or 'hassle'. But in reality, it is not that bad. Provided you know how to take the right steps and provided you take the time to do so! But where to start? How do you set up a CX strategy? We have written down the steps for you.
Step 1. Define what the ideal experience is
Before you get started, you do need a vision of Customer Experience. This has everything to do with your brand story. After all, who are you? What do you stand for? What are your core values? And how do you want customers to experience your brand (the experience values)?
To determine this, you do need to know what the current status is. Therefore, go and talk to customers and ask them this question. 'What do you think of when you think of our brand? What are the first words that come to mind?' Once you have a current experience in mind, determine whether this is the desired experience or what you would like to change about it. This lays the foundation for the size of the transition what your organisation is going through.

Step 2. Determine who is responsible for Customer Experience
A task for everyone, is a task for no one. Put someone in charge of creating that ideal experience. A Customer Experience Manager, for example. And make sure he assembles a team. Think about good cooperation with marketing, service, sales and IT.
Step 3. Avoid silos: don't let departments work separately from each other.
Customer Experience is created by each customer facing department. In most cases, this involves your marketing, sales and customer service departments. It is crucial that these departments are aligned, talk to each other and share their findings about the experience. Your employees in the branch should feel the same as the agents on the phone. So look at this as a whole and avoid having each department stuck in their own silo.
More on avoiding silos and why this still persists in organistions? Read it here >

Step 4. Get the basics right
You have mapped out your goal and you have assembled a team from different departments, which prevents everyone from working in silos. Now start with the low-hanging fruit. How long are your customer service waiting times? Are our employees friendly enough? How long are the queues in your shop? Does our website display a lot of 404 notifications? These are factors that don't improve the experience at all and you already know this. Address these points first and train your employees on how to help the customer correctly.
Step 5. Measure each touchpoint and bring the data together
You have improved some basic factors, such as coping with busy times and making sure your website is always working. The next step is to optimise all your different touchpoints. What helps with this is measuring every touchpoint. Every interaction moment.
Insocial has an appropriate feedback solution for each type of interaction. So you measure both the in-store experience and the experience of the conversation with the call centre agent or even chatbot. This data can be found in one analysis dashboard. This allows you to measure every touchpoint, analyse it and improve the Customer Experience everywhere.

Step 6. Give each stakeholder access to their own areas for improvement
You are only truly a customer-centric organisation when employees are customer-centric by themselves and focus on the experience. To achieve this, you need to ensure that each stakeholder has access to their own scores. For example, as a call centre agent, you will better understand what customers think of your service. And what works best of all is sending this information proactively. Don't expect your employees to log in somewhere. Send them daily or weekly results by e-mail.
Step 7. Make it visible in the workplace
A message sticks if you repeat it often enough. This is also how it works with creating support and for Customer Experience within the organisation. If you repeat this, it will stick. Show your results on the shop floor by means of a TV screen in the department. This is called narrowcasting.

Step 8. API Driven: feedback always present in your technical landscape
By choosing platforms with an open API, including your feedback platform or other CX tools, you can bring data together and link them. By which you bring feedback back into your technical landscape. See, for instance, directly in your CRM system what satisfaction level a certain customer or account has.